Thought I'd share a WIP shot of this Land Raider - I'm at the point now where Ill begin the detailing and decals. How much do you figure I should weather this bad-boy? A few paint chips? None? Should I use those "spot dark flesh" patches I've been using (I find they look nice on the yellow, but not sure if they will look ok here). Thoughts?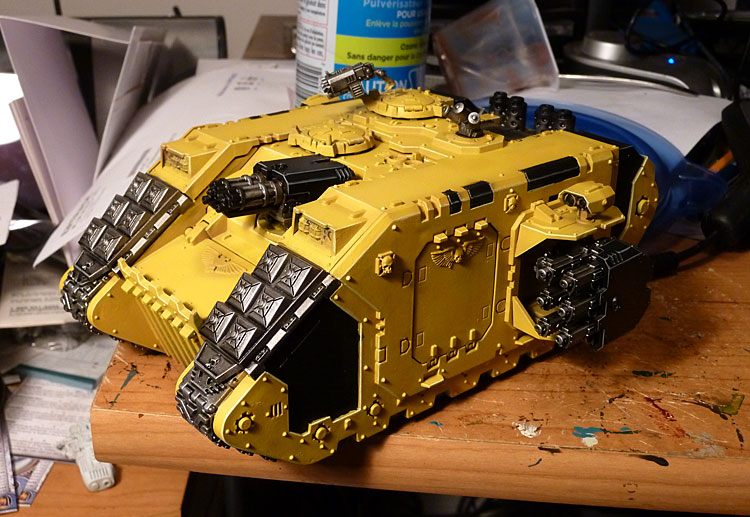 6 Comment(s).
Posted by Brad:
Dark Flesh = yes
Heavy wear = rust, scratches etc on ramp and track links.
Fresher wear and tear on main body. This beauty is a center piece and would no doubt be well tended.
Are you going blue, green or red lenses on the turrets and scopes?
Cant wait to see the next picture.
Cheers, B
Posted by Jarrett:
Yep I do have that, it's a great book! I do find that if I use it I end up with something heavily weathered (it's where I got the idea to sponge on the paint chips). Maybe Ill just do some very mild weathering around the assault ramp and bottom edges. I should maybe also add dust and rust to the very bottom and the track links.
The dark flesh spots add some nice tonal variety to the yellow, I think it will look good as long as it isnt to "spotty" if that makes sense.

Try to find a happy medium with the weathering. Light on the panels, heavier around the bottom and hatches.

Did you ever pick up the Forgeworld modeling masterclass book? It has some great suggestions for weathering tanks. Well worth every penny.