Hmmmmmmm. Not sure how I feel about how this one turned out. I cracked the shrink wrap around 2 pm today - I guess it probably took me a few hours (with long breaks for kids, dinner etc) in total. I had high hopes for how he'd look using this yellow, but I'm not sure. Maybe I over-weathered him. Likely what looks great on my Orks won't look as good on Space Marines

What do you guys think?
Update: This guy will be on ebay tonight, along with the previous Beastmen work and a Carnifex. I decided to hold back the Imperial Guard to flesh out the stuff I'm selling for them.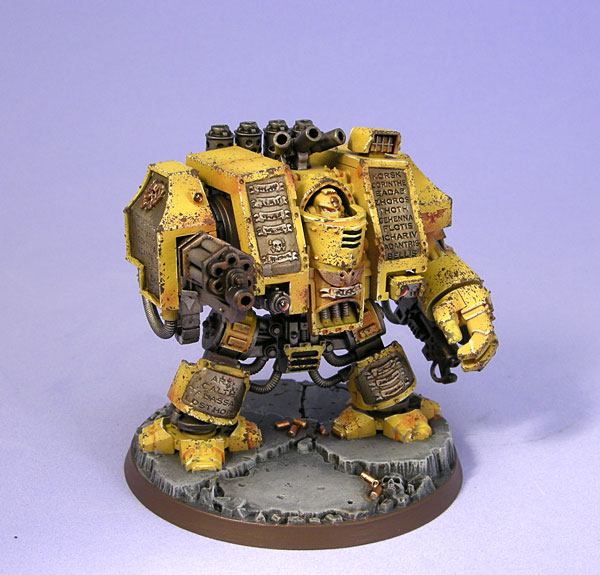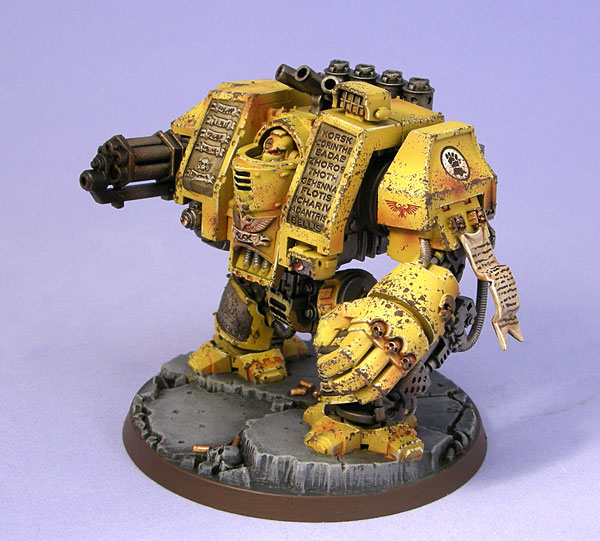 9 Comment(s).
Posted by christian shoes:
If you want to look good and definitely stand out from the crowd you need these
Breitling Watches
. The
Breitling Aeromarine
company got started back in 1884 in the mountains of Switzerland as a company. Today,
Breitling Windrider
are best known . you will appreciate the aviator-grade technology included in the
Bentley 6.75
.
Hogan scarpe
does several amazing shoes for gentlemen.
Hogan scarpe donna
is a hot looking shoe.
hogan donna
is a shoe . The shoe comes in a solid blue, black red or blue coloring, with a apparent
Hogan scarpe uomo
symbol on the side.
Men and women wear any
Hardy clothing
along with a full line of boots .This is one of most popular bags and is part of the
hardy shirt
collection. Shop for the azure
hardy shirts
.
hardy shirts
gives us a new take on the wild west with this contemporary interpretation featuring a bold blue hue and dramatic mixed metal hardware.
Posted by Brad:
I agree with the above comments. The yellow is beautifully done, just a bit too weathered and Orky looking in the obvious lack of care. If the weathering was fresh looking, with more silver metals and less rust Id think it would work better.
The only other thing that really hit me as I looked at it was the unbroken amounts of yellow on the model. I dont know a lot about this chapter, but is there any way to introduce a secondary color? Black stripes on the fist? Not sure where, but something to break up the yellow.
Another thought that just hit me was the use of a banner, that would be a great way to lend this model a sense of the unique.
Nicely done yellows as usual though.
Cheers, B
Posted by Jarrett:
PS - hopefully my "yellow phase" isn't gonna drive people crazy :D
Posted by Jarrett:
Yep, good comments: too much weathering, and need some black sections! It was a fun experiment though :)
My first impression before I even read your concerns about over weathering was that it was a bit too much. I like a bit of battle damage on marines but theres a very fine line between the perfect amount and overdone.

The amount of yellow on Imperial Fist vehicles can sometimes be a bit overwhelming too. I've suggested to one of my friends to break up the yellow with some black. I think GW uses red to break it up a bit but I'm not a big fan of that combo.

Overall I've been very impressed with your recent updates, keep em comin.
Posted by BM:
Nothing wrong with the yellow itself, it looks good. But your gut-feeling about the weathering is right! It is over the top for a dreadnaught. The imperial ones are supposed to look more shiny and all. As it looks now, it appears like it have been "un-tendered" for a long time (suiting for orcs and chaos), where as imperial ones, I reckon, would be polished after each and every campaign.

Although, I do get the effort of parts you have weathered, as they are the where it would take most damage (fist in particular).